According to the EPA's National Waste Statistics Summary Report for 2020, published at the end of 2022, overall waste generation increased from 12.7 million tonnes in 2012 to 16.2 million tonnes in 2020. Not only is the national waste growing, but our EU targets are under threat. And Irish businesses have a substantial role to play.
The most effective way to lower your business's waste management costs is to minimise waste wherever possible. When you can't, the next best thing is recycling. The EPA's latest report shows that landfill disposal has fallen sharply, but our plastic packaging recycling rate is still far below where it should be, and a long way off the 50% target due in 2025. And for Irish businesses, the cost of a recycling management program is likely eating directly into your profits through many different avenues.
Waste balers can be an important tool in helping your business streamline waste removal and improve your bottom line. Keep reading to learn how LSM helps businesses like yours find new ways to reduce wasted resources.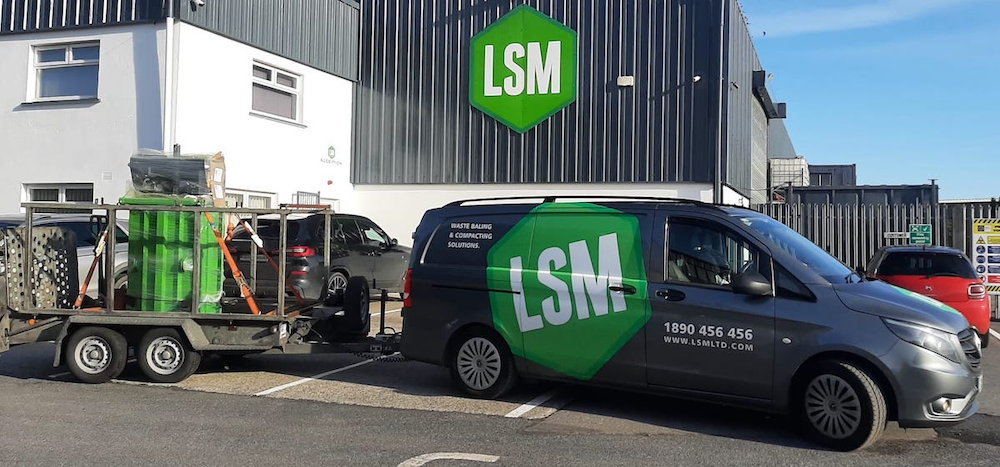 1. REDUCE YOUR LANDFILL COSTS
How effectively do you separate your recycling waste? As landfill costs grow, waste diversion becomes even more important for businesses. Going forward, Irish businesses can expect to see a growing financial incentive to divert and recycle waste. According to the EPA, some of the new measures introduced could include a levy on incineration and introducing recycling subsidies and incentivised pricing.
Waste separation can be easier to maintain when you bale your waste. With a plastic baler or a cardboard baler, you can load the baler as you work. With bales, it's much easier to see how much waste you're producing, store correctly, and ensure you're diverting as much landfill waste as possible. You'll see your landfill costs go down, and waste removal take fewer movements because bales are so much neater to pack.
2. BOOST WORKPLACE PRODUCTIVITY ALL YEAR
How much time does your team spend stomping on boxes or moving recycling waste from the warehouse to the skip? You might be surprised.
Managing bulky cardboard or plastic is a common barrier to recycling because it's a drain on one of your business's most valuable resources: time. Time spent breaking down waste adds to the cost of your waste and impacts your overall productivity. With a waste baler, you can take the time back and spend it on more valuable activities.
Plus, bales are easier to store, which means your stockroom isn't cluttered with stray packaging.
3. WORK WITH ONE PROVIDER FOR ALL YOUR NEEDS
LSM helps businesses of all sizes and across all industries improve their waste management programs by helping you choose the right baler. Our customers can rent or buy their waste balers, which allows you to scale your balers along with your changing needs. You can buy one baler for year-round use and rent additional balers for peak season.
Plus, we'll service not only LSM balers. but even competitor-brand balers, so you can work with one reputable, expert provider.
Are you ready to see the serious savings that a waste baler can bring to your business? Contact our expert team to learn more about how the right waste baler could pay for itself.